Riva žrtava Dvanjke 3, Primošten, Croatia
Primosten is only 3 hours from most European destinations.
By car
- From northern Europe, travel from Munich, Germany and drive down to Graz, Austria, continue to Maribor, Slovenia and then to Croatia.
- From Zagreb, take Highway A1 Karlovac–Split. Exit Sibenik, take E65 to Primosten
- From Rijeka, take Adriatic road D8 towards Primosten or Senj, continue on highway A1 to exit Sibenik, then E65 coastal highway to Primosten.
- From Zadar, take E65 towards Split to Primosten.
- From Split, take E65 towards Zadar/Sibenik to Primosten.

By plane

Split Airport is the closest to Primosten at just 35 km away. Many commercial carriers serving Europe offer direct flights to Split.
You will also find domestic connecting flights from Zagreb each day.
Zadar Airport, 100 km from Primosten, is an option for those who prefer to fly with Ryan Air.

For more information please visit:
Airport Split
Airport Zagreb
Airport Zadar

By bus

Buses travel regularly between Zagreb and Split, approx. every 30 minutes.
From Split, take a bus travelling towards Sibenik or Zadar.
From Zadar take a bus travelling towards Split, making sure that a stopover in Primosten is scheduled.
Note: Buses driving by A1 highway are not passing through Primosten; therefore you should travel to Sibenik or Split and use a local connection to Primosten.

For more information please visit:
Split Bus Terminal
Zadar Bus Terminal
Zagreb Bus Terminal

By rail

Railway stations closest to Primosten are Split, Sibenik and Zadar.

For more information please visit:
Croatian Railways

By boat

International lines from Italy: Ancona–Split, Pescara–Split.
Domestic lines: Rijeka–Dubrovnik, passing through Zadar, Sibenik and Split.

For more information please visit:
Jadrolinija shipping/ferry company
SEM Marina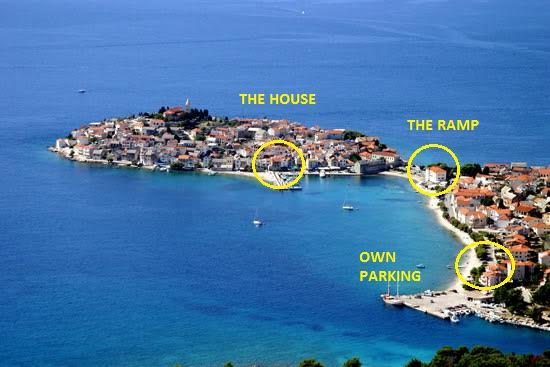 The house is located in the old part of Primošten, which is protected as cultural heritage and due to that access to the house with a car is not possible. Since there is a ramp at the entrance to the old town there are two possible solutions:
1. If guests do not have too many luggage they can walk from the ramp to the house carrying their luggage (less then 100m)
2. If guests have more luggage there is small city electric car that will bring all luggage from the ramp to the house
The guests have one parking space for free. If guests are comming with 2 cars, parking for second car has to be announced before arrival and we will arrange parking for that second car too (there is possibility that parking for second car will have to be paid)